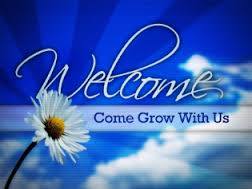 In these turbulent times people are becoming increasingly interested in Spiritual Development and in developing their own Spiritual Abilities. Daily living is becoming increasingly stressful, and we seem to have more worries and anxieties than ever. People are worried about the recession, redundancy, bills ever increasing, their relationships and their path in life, to name but a few.
These mounting worries lead many of us to seek ways to relieve the stress. Ferniegair Christian Spiritualist Church can help you work on your Spiritual development whilst easing the stresses caused by day to day living.
If you come along to Ferniegair Christian Spiritualist Church on a Tuesday you will find the development circle. This is attended by like-minded people who want to increase their awareness of their own Spiritual ability and the Spiritual Essence within their own lives.
It's natural for people to be nervous about trying something new, whether it is a new job, activity or hobby. There is no need to worry about attending the Church though, as all newcomers are welcomed with open arms. There is no sense of "being thrown in at the deep end" as all activities will be discussed and talked through before any activity begins.
So what does this actually involve, you may wonder? It is called a development circle because people sit in a circle. The circle shape is important as it is a uniform shape, and one which is continuous, having no beginning and no end. There is a brief introduction where Church Leaders talk about the circle and its aims and benefits of attending, followed by members then describing their reasons for going to the development circle. What happens thereafter is a meditation exercise, to help attendees open their minds up to God and the energy of the Spirit.
The lights are dimmed and soft, relaxing music is played. Members of the circle then sit and quietly meditate. It should be stressed that this is not deep meditation, like that performed by Buddhists and Yogis, rather it is intended to allow you to detach your mind from the hustle and bustle of daily living and put your stresses and physical emotions on the back burner. This then allows the spiritual aspects of the mind to take over. The meditation should help calm and still your physical and mental essence and leave you feeling calmed and relaxed.
After the meditation exercise the group then has a discussion, with each person talking about what they experienced and felt during the meditation. It is easy to see how Spiritual influences can change people's mind sets during these discussions. People can experience meditation differently, the best thing is to come along and try it for yourself!
Meditation is extremely beneficial in helping people to develop their own Mediumistic abilities. During meditation people often get pictures or thoughts in their head, which build up rather like a jigsaw puzzle. This is when links to people who have passed away are made. Hence why it is called the Development Circle.
Development Circles are not the only thing you can find at Ferniegair Spiritualist Church, as on a Sunday the Church is home to an evening containing a demonstration of Spiritual Clairvoyance followed by a Spiritual Healing session.  Spiritual Healing is very important as it shows newcomers to the Church what Spiritual Development can achieve. It helps people open their minds to the influence and energy of the Spirit.
Like that of the Meditation Circle, the atmosphere is very relaxing. The Church has several dedicated healers, the majority of whom are Church members and who have attended the Church's Development Circle for many years. Chairs are set out for those in need of Spiritual Healing and a healer stands behind, placing their hands on their shoulders. The healers are working as a channel for energy, and so the initial physical contact is of the utmost importance.
At the end of the healing, which normally takes around 10 minutes, the healer will tell the person any thoughts or feelings that came into their mind. It is common for the healer to pick up on any pains the person in need of healing is feeling, which can help them take action to resolve their problems. It is important to note that our healers don't claim to physically heal pain, but they can identify it and then help people to take the right action to solve their difficulties.
On Sundays the Church also participates in a distance (absent) healing exercise. Any church member can add names to the list and then healing is sent to them. This is a particularly potent time to carry out distance healing as most Spiritualist Churches carry out their distance healing at the same time, meaning they all come together and pool their energy.
Anyone can develop their Spiritual Abilities; you do not need to have latent psychic talent to do this. It's like anything else, if you go to the gym it is naturally going to take some time to build up the body you desire. It takes time and development to become aware of your own Spirituality, and Ferniegair Christian Spiritual Church wants to help you on your journey to Spiritual Awareness. The old adage is true, practice does indeed make perfect!
Ferniegair Christian Spiritualist Church is a Christian organisation but the leaders stress that they are open to all faiths. You don't have to be a Christian to attend the Church or the Meditation Classes, you just need to have an open mind and want to grow and develop your own Spiritual Awareness.
Ferniegair Christian Spiritualist Church has become a local institution since its inception over 37 years ago. We are fully integrated into the community, and count many members of the community amongst the congregation, the Church is very well established  in Hamilton in general and its good name has been spread far and wide. We look forward to sharing the warmth and knowledge of the church with you all.