Hi Everyone.
I Hope All is Good with You and Your World.
Today 24th January, would have been the 95th Birthday of our President in Spirit Mrs Elizabeth (Bessie) McLean. As many of you, both here in Scotland, and around the World will know, Bessie had a unique gift, a gift she used tirelessly helping others, bringing comfort and guidance at a time of loss. I'm sure she will be continuing her Wonderful Spiritual Work in the Spirit World.
On behalf of everyone at "The Church" and her many Friends across the World, We will raise a glass and Wish You a very Happy Birthday.
In Your own words.
HERE'S TAE US; WHA'S LIKE US? GEY FEW, AND THEY'RE A' DEID'.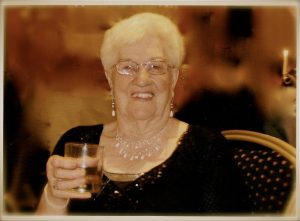 http://ferniegairspiritualistchurch.co.uk/wp-content/uploads/2016/12/fernigair-dove.png
0
0
Harry Boyd
http://ferniegairspiritualistchurch.co.uk/wp-content/uploads/2016/12/fernigair-dove.png
Harry Boyd
2017-01-25 23:04:36
2018-02-01 14:18:47
Latest News